I hope you are all well, all around the world. We are having a weird weather here in Cyprus; two days ago it was bright and hot with temperatures reaching 30 degrees C and only yesterday it was grey,rainy and cold.
I do not mind the grey,rainy and cold though; I love it! Such a weather inspires me to crochet more.....So yesterday, I sat down and made a wish list of crochet projects I would like to do in future time. I hope I stick to my list and so do not get distracted by new projects while surfing the Internet.
So here is my crochet projects wish list of the year 2012: 1-
Golden pineapples throw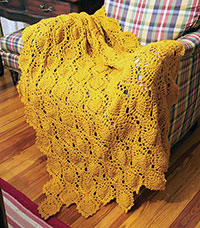 2-
Baby Granny Stripes Blanket
3-Granny Stripe Blanket
4-
Mini Moogly Sweater
5-
Little Garter Cardi
6-
French Nannie's Flower Square
7-
Purple Popcorn Afghan
8-Granny's a Square-A Colorful Throw by Allison Horas
9-Babette Blanket
10-
Garden Patch Granny Afghan
A note on this pattern: I just Love! Love! Love! it.
11-
Tweedy Triangles Afghan
12- A wavy blanket
13- Granny Ripple Blanket
14-Striped Bag by Pierrot Yarns
15-
Weekend in Stockholm Throw
16-Top Down Baby Cardigan
17-Crochet Log Cabin Afghan
18-
Breezy Baby Blanket
19-
Drops Jacket in Garter Stitch
As you can see,this is a very long list. I do not think I will be able to work on all of these patterns but if I manage two or three it will be a great accomplishment for me.
How long is your wish list?
Good-bye. Gaia.